Source: http://bharathautos.com/2013-maruti-suzuki-a-star-sedan-rendered-image.html

The country's leading car manufacturer, Maruti Suzuki is planning to develop an A-Star sedan that is aligned to place between the new sub-four meter DZire and its mid-sized SX4 sedan to tap the rapidly expanding sedan segment. Sources indicate that Maruti Suzuki is planning to introduce A-star sedan on the domestic shores by 2013.
There is a buzz that the company will initially export this new sedan to European markets. It is still not cleared, if the A-star sedan would be sold in collaboration with Nissan Motors or the new Suzuki partner, Volkswagen. It is predicted that with a joint venture, the A-star sedan will have a better outcome in the international markets. Well, this can certainly be the company's new strategy to enhance its segments.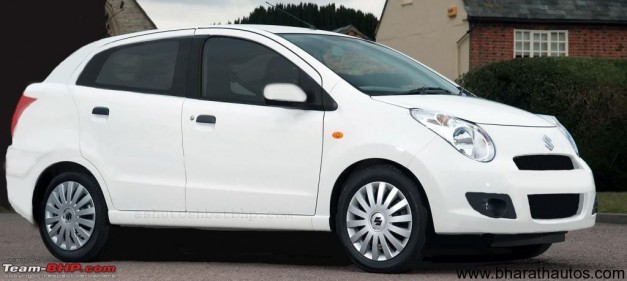 The A-Star sedan will be built on keeping fuel-efficient and compact car in mind that to fit with Europe's government future market focus. The company must be targeting to grab such sedan enthusiasts by offering the A-star sedan at a nominal price tag. On the other hand, many of the automobile critics are calling A-star sedan an unintelligent move from the company as the car would look shabby with an added boot.
Currently, Maruti Suzuki is a big player with majority shares in the ruling sub 10 lakh rupee bracket of the Indian car market. According to the auto experts, the 2012 version of Swift Dzire has a shrunken boot and SX4 has a full boot, so the sedan in between these too is expected to sport a full boot with prices less than the SX4.
The company strategies of creating new sub-categories within segments to explore new possibilities to increase its market share. For e.g. in the hatchback segment Maruti Suzuki offers 4 cars in the price bracket of Rs. 2.5 – 4.5 lakh which are Maruti Alto K10, Maruti Wagon R, Maruti A-Star and Maruti Estilo so the customer ends up shopping within the brand.
Source : http://www.drivespark.com/four-wheelers/2012/maruti-suzuki-might-launch-omni-diesel-003967.html

Maruti Suzuki has decided to take on Tata Motors head on, in a segment where it does not have a huge foot print - light commercial vehicles. Tata Motors is the unchallenged leader in the light commercial vehicle segment with more than 50% market share. The Tata Ace is the best selling vehicle in this segment and Maruti Suzuki is planning to venture in to this territory soon. The leading Indian carmaker is said to be attracted by the growth prospects of the light commercial vehicle segment and is looking at new models and improving its existing models. The first name that comes in to our mind when thinking about a Maruti Suzuki commercial vehicle is the Omni Cargo. Reports say Maruti Suzuki will soon develop a diesel avatar of the Omni. The Maruti Omni's diesel variant is expected to be powered by a new twin cylinder 800cc diesel engine being developed by Suzuki in Japan. The 800cc diesel engine was initially meant to be used in Maruti Suzuki's small cars such as the Alto and Wagon R. Now the carmaker is also considering to make use of this engine in its commercial vehicles too. These are the possible Maruti Suzuki vehicles that could get a new 800cc diesel engine.
Read more at:
http://www.drivespark.com/four-wheelers/2012/maruti-suzuki-might-launch-omni-diesel-003967.html